When you think of where to grab a quick, healthy lunch or go to dinner with family members who want different choices, you might not consider a hospital cafeteria.
But maybe you should.
Mercy Hospital Springfield will bless its new café and offer co-worker tours on Tuesday, July 3. The new space opens to everyone on July 4.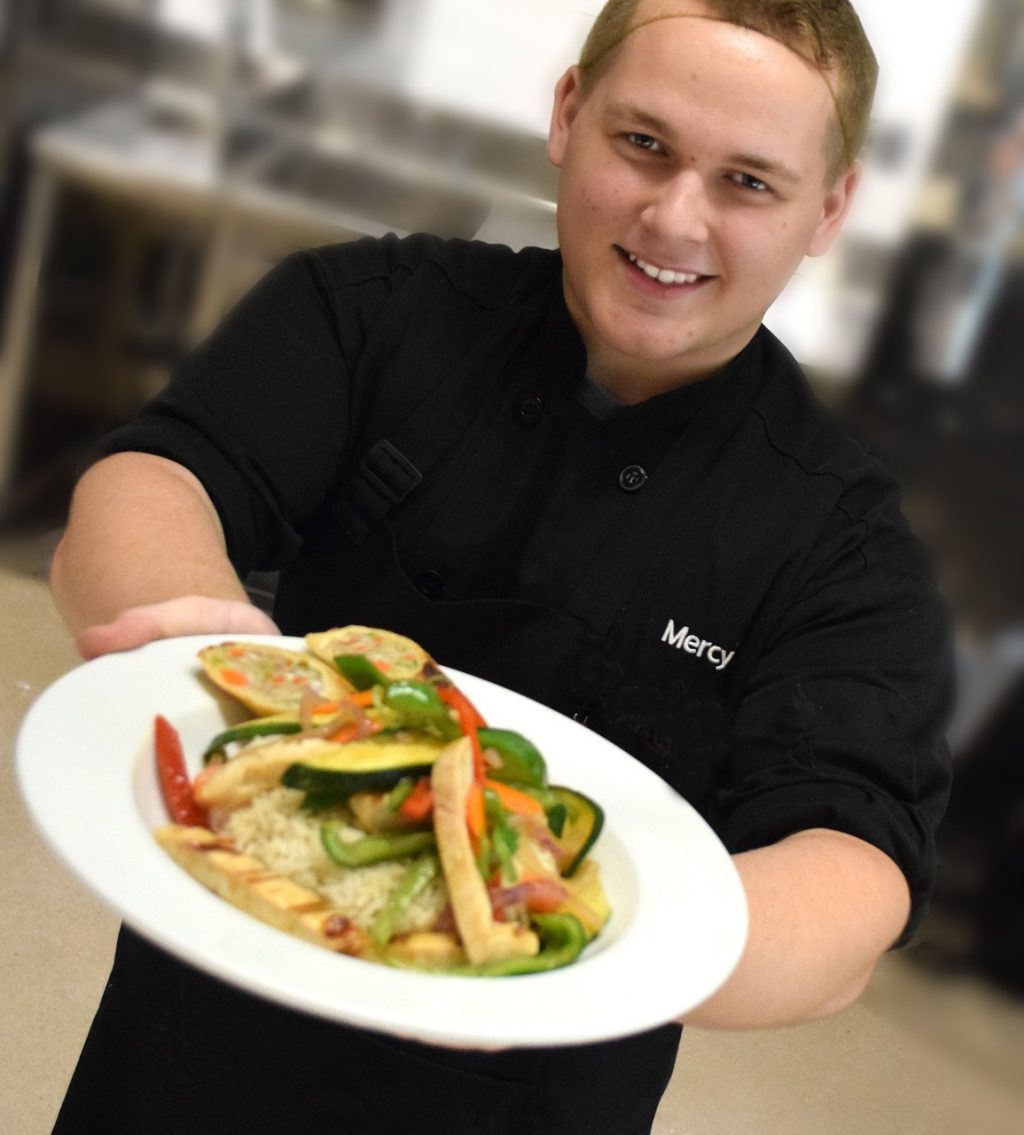 Expanded menu options at Mercy Hospital Springfield's café focus on healthy, fresh ingredients.
The prior cafeteria dated back to the current facility's construction in 1952, and the space could no longer keep up with the demand. Mercy Hospital Springfield serves about 6,000 meals a day, including about 1,500 patient meals offered through a hotel-style room service program, which enables patients to order the food they want on their own schedule. To improve access, expand services and improve the dining experience, both the kitchen and dining area have been relocated to the very front of the building.
"This is an upscale space," said Brent Hubbard, chief operating officer of Mercy Hospital Springfield. "It looks out over one of our courtyards, so it's very bright with big windows and lots of seating options. We wanted to ensure our visitors and co-workers have a space to really get away and recharge. Our caregivers take such good care of our patients that we wanted to take care of them, too."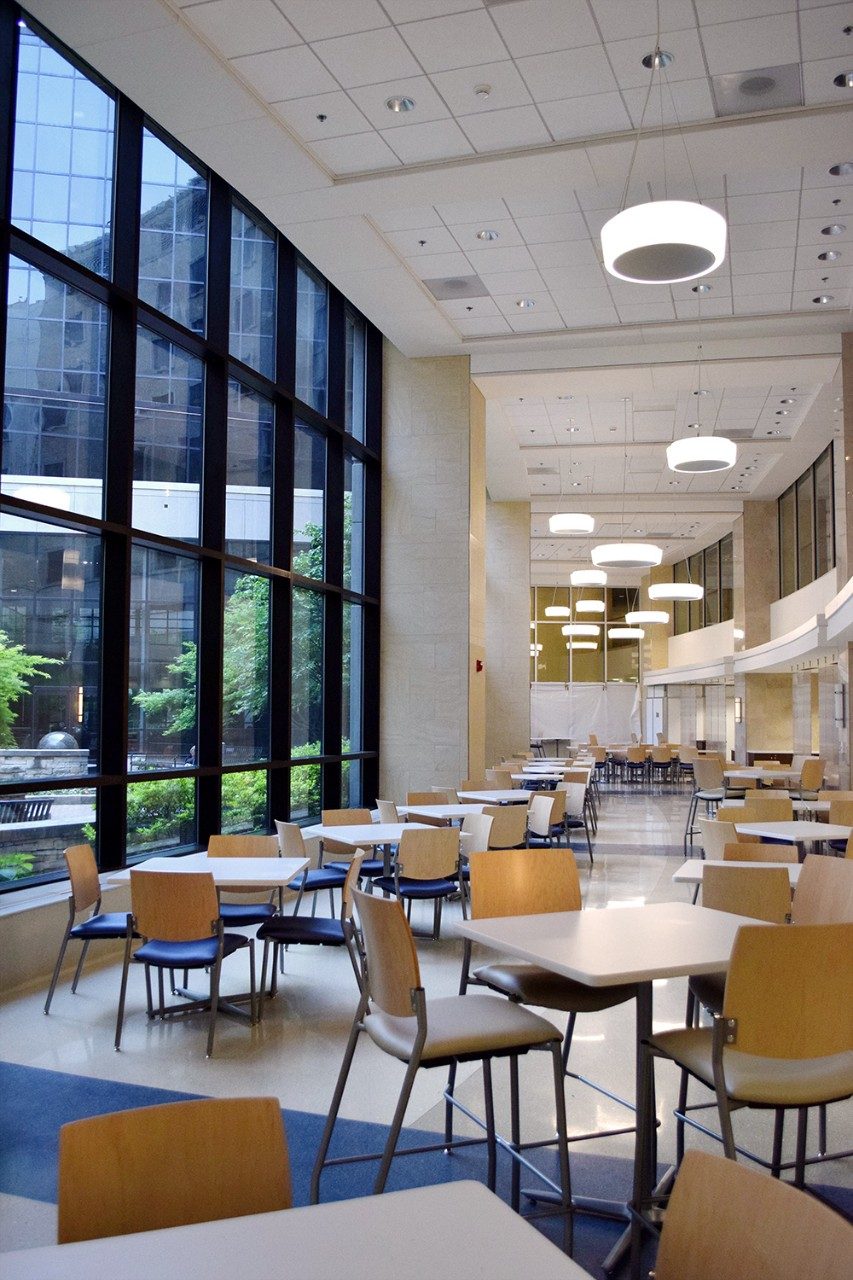 The new café overlooks one of the hospital's courtyard, letting in light and giving visitors a beautiful garden view.
The new space also allows for more menu options. "We anticipate that guests will be excited about our wood stone pizza oven," said Amy Partain, director of Mercy Food and Nutrition Services. "We've always had excellent options on our salad bar, but now guests will be able to add a warm serving of chicken or beef to their salad, depending on the protein offered that day. And of course, we're keeping our favorite comfort foods. Our focus is really on fresh, healthy ingredients and a variety of options."
In a recent survey, co-workers revealed they value quality time with their family and friends. With the opening of the new café, Mercy is taking that feedback and offering an alternative to preparing and cooking an entire meal at home. "Knowing how busy schedules can be, having the time to prepare a meal can sometimes seem impossible," Partain said. "When that's the case, we don't want them to worry about what's for dinner or running to the store to pick up a gallon of milk. We will have take-home dinners or pizza ready for them to pick up, along with grocery staples, in the new café. We're hoping that allows them to enjoy their family time when they get home."
The new café is the first phase in the remodeling work that will create the new Mercy Heart Hospital Springfield, which is due to open in the fall of 2020.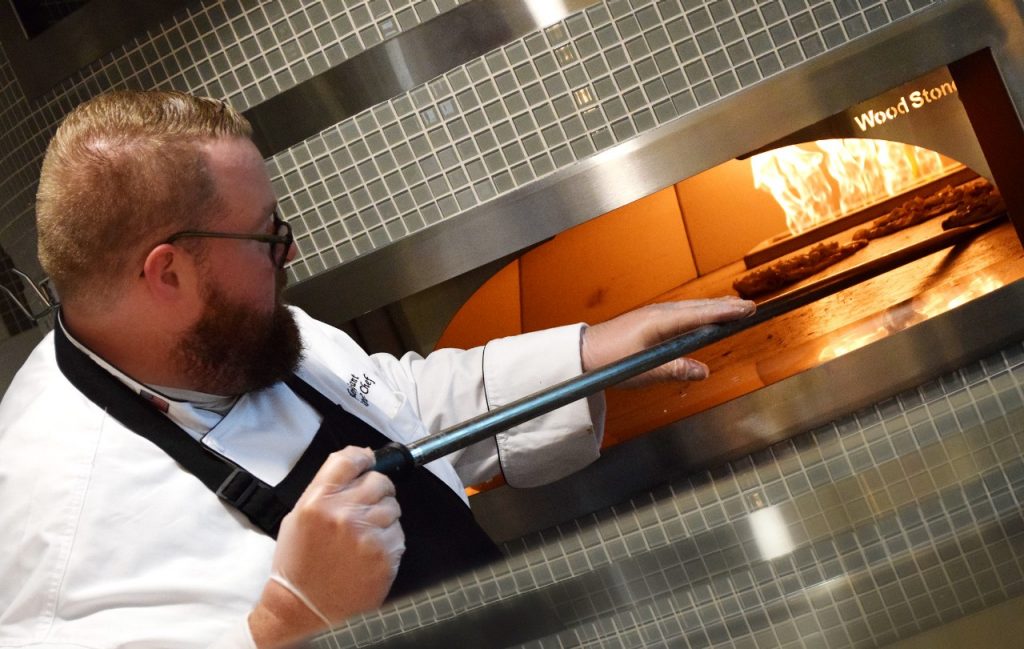 Mercy executive chef Tyler Gant removes a pizza from the new wood stone oven.