May 15, 2019
ST. LOUIS – Mercy Hospital St. Louis was among fewer than 1,000 hospitals nationally awarded an A from The Leapfrog Group's spring 2019 Hospital Safety Grade. Mercy St. Louis is a Straight A hospital Leapfrog having received A grades 14 consecutive times.
The designation recognizes Mercy's efforts in protecting patients from harm and meeting the highest safety standards in the United States. Mercy hospitals in Washington and Festus also received an A grade.
The Safety Grade assigns A, B, C, D and F letter grades to hospitals nationwide based on their performance in preventing medical errors, infections and other harm among patients in their care. Those scores were announced by The Leapfrog Group, a national nonprofit patient safety advocate.
"With the consistency of quality and safety awards we earn together, we honor the legacy of the Sisters of Mercy before us," said Stephen Mackin, Mercy Hospital St. Louis president. "Our mission leads us to do the best for our patients, providing compassionate, high quality care – most recently acknowledged by this award."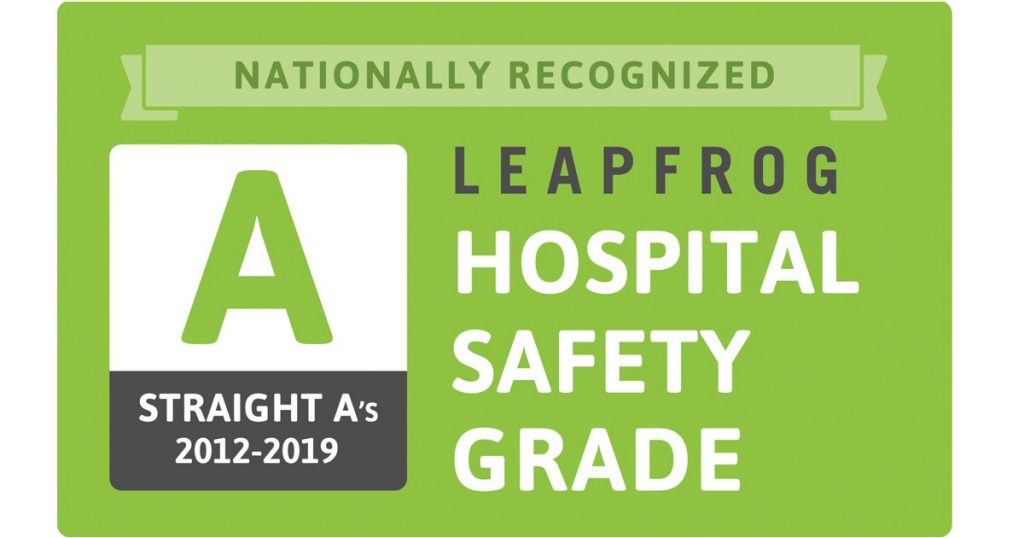 Leapfrog's Hospital Safety Grade recognizes hospitals that focus on advancing patient safety.
"Hospitals that earn an 'A' grade are making it a priority to protect patients from preventable medical harm and error," said Leah Binder, president and CEO of The Leapfrog Group.
Developed under the guidance of a national expert panel, the Leapfrog Hospital Safety Grade uses 28 measures of publicly available hospital safety data to assign grades to more than 2,600 U.S. hospitals twice per year. The Hospital Safety Grade's methodology is peer-reviewed and fully transparent. Results are free to the public.
To see Mercy's full grade details and to access patient tips for staying safe in the hospital, visit www.hospitalsafetygrade.org and follow The Leapfrog Group on Twitter and Facebook.
About The Leapfrog Group
Founded in 2000 by large employers and other purchasers, The Leapfrog Group is a national nonprofit organization driving a movement for giant leaps forward in the quality and safety of American health care. The flagship Leapfrog Hospital Survey collects and transparently reports hospital performance, empowering purchasers to find the highest-value care and giving consumers the lifesaving information they need to make informed decisions. The Leapfrog Hospital Safety Grade, Leapfrog's other main initiative, assigns letter grades to hospitals based on their record of patient safety, helping consumers protect themselves and their families from errors, injuries, accidents, and infections.
Media Contacts
Bethany Pope
St. Louis, St. Charles, St. Louis - South, Troy, Festus